September 21, 2020 By Don Pinnock
One of the world's worst wildlife scams is being permitted by the United Nations organisation formed to protect wild animals from over-exploitation and regulate trade. It all hinges on the letter Z on an export and import permit.
Is forcing an elephant to sit on its haunches while twirling a hula hoop on its trunk or teaching a chimp to ride a bicycle in a tailcoat science, conservation or cruelty?
This is a question that has vexed filmmaker and wildlife investigator Karl Ammann for many years because they are activities permitted, by implication, under the Convention on International Trade in Endangered Species (CITES).
Read the full story here.
September 17, 2020 By Louise Boyle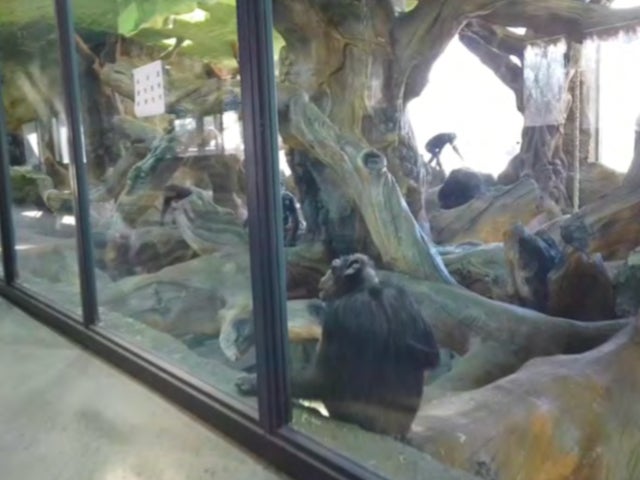 Chimps in South Africa due to be shipped to China under questionable circumstances, conservationists believe.
We are working with conservation charity Space for Giants to protect wildlife at risk from poachers due to the conservation funding crisis caused by Covid-19. Help is desperately needed to support wildlife rangers, local communities and law enforcement personnel to prevent wildlife crime.
Chimpanzees are being illegally shipped out of Africa to foreign zoos under the guise of the legal wildlife trade, conservation groups have told The Independent.
Chimps are an endangered species with only around 200,000 left in the wild. Their numbers are projected to decline by 80 per cent by 2050, according to the Jane Goodall Institute, due to habitat loss, diseases and poaching, compounded by their slow reproduction rate.
Illegal trafficking also poses a significant threat. While some 3,000 chimpanzees, gorillas, bonobos and orangutans are killed or snatched from the forest each year, the UN Environment Programme says, wildlife organisations also point to the blurred lines of the legal trade, and the seemingly lax oversight of governments, as having an impact on dwindling numbers.
Read the full story here.
August 24, 2020 By Bruce J. Weissgold, Peter Knights, Susan Lieberman, Russell Mittermeier
At the moment, we can't—so let's adapt it
In reaction to the global COVID-19 pandemic, attention has focused on the potential role of the Convention on International Trade in Endangered Species of Wild Fauna and Flora (CITES) to further regulate—or ban—various form of the wildlife trade. Banning the wild animal trade, particularly for human consumption, means stopping the movement of some zoonotic diseases—infections that can be transmitted from animals to humans.
There have also been suggestions that the World Health Organization (WHO), the United Nations' Food and Agriculture Organization (FAO), or the World Organization for Animal Health (OIE) could be instructed by governments to collaborate to prevent future zoonotic epidemics and pandemics. Other options include a protocol to the Convention on Biological Diversity (an umbrella treaty, adhered to by all but one party to CITES) or a protocol under the U.N. General Assembly. But with little experience dealing with transport of terrestrial wild animals, these bodies simply lack the expertise and infrastructure needed to regulate the international trade of wild animals.
Read the full story here.
August 17, 2020 By Ian Urbina
After exhausting areas close to home, China's vast fishing fleet has moved into the waters of other nations, depleting fish stocks. More than seafood is at stake, as China looks to assert itself on the seas and further its geo-political ambitions, from East Asia to Latin America.
For years, no one knew why dozens of battered wooden "ghost boats" — often along with corpses of North Korean fishermen whose starved bodies were reduced to skeletons — were routinely washing ashore along the coast of Japan.
A recent investigation I did for NBC News, based on new satellite data, has revealed, however, what marine researchers now say is the most likely explanation: China is sending a previously invisible armada of industrial boats to illegally fish in North Korean waters, forcing out smaller North Korean boats and leading to a decline in once-abundant squid stocks of more than 70 percent. The North Korean fishermen washing up in Japan apparently ventured too far from shore in a vain search for squid and perished.
Read the full story here.
August 14, 2020 By Don Pinnock
Chimpanzees are our nearest genetic relatives on the tree of life. At this rate, eaten or forced to entertain zoo visitors or wealthy sheikhs, they're heading for extinction. CITES seems unable to stop the slide and African governments don't appear to consider it a problem.
If a wild animal has monetary value it's a prelude to extinction. That's because the cheapest way to acquire that animal is to poach it. Across Africa, control of poaching is dismal, haphazard, often corrupt and the increase in the value chain from the forest floor to the foreign consumer is eye-watering. As a result, the scale of wildlife extraction is best compared to a vacuum cleaner.
Read the full story here.
September 17, 2019 By BES Press Office
Researchers analysing recent BBC and Netflix nature documentaries found that although they increasingly mention threats to nature, visual depictions of these threats remain scarce, potentially misleading audiences on the state of the natural world.

The findings are discussed in a Perspective published in the British Ecological Society journal People and Nature.
Researchers from Bangor University, University of Kent, Newcastle University and University of Oxford coded the scripts from the four most recent David Attenborough narrated series. They found the Netflix series Our Planet dedicated 15% of the script to environmental threats and conservation, far exceeding the BBC series Planet Earth II and Dynasties, with only Blue Planet II coming close to this figure.
Read the full story here.
May 19, 2019 By Terrence McCoy – Washington Post Special Report
The animal has become a commodity: farmed, butchered, sold. We joined one man on his dangerous quest to expose the truth.
THA BAK, Laos —He was up there somewhere, at the top of the hill, the man Karl Ammann had come to see. It would soon be night. The forest was all shadows and sounds. Ammann had driven across the country to reach this remote river village, and now he was finally here, looking to the top of the hill, ready to confront the person he believed had murdered more tigers than anyone in Laos. In the distance, he could hear them: dozens of tigers roaring.
For nearly five years, Ammann, 70, a Swiss counter-trafficking conservationist, had tracked the tiger butcher, a man named Nikhom Keovised. He had placed hidden cameras inside what had once been the largest tiger farm in Southeast Asia, an illegal operation where tigers had been raised to one end — slaughter — and where the man doing the slaughtering had been Nikhom. And he had listened to Nikhom describe it all in his own words: "Use the anesthetic," he had said. "Then just cut the neck." Then "peel its skin."
Read the full story here.
Bilder einer sterbenden Welt
(Images of a dying world)
September 17, 2009 Von Thilo Thielke
Die Kamera ist seine Waffe gegen Wilderer: Der Schweizer Naturfotograf Karl Ammann dokumentiert mit seinen Aufnahmen die gnadenlose Jagd auf aussterbende Tierarten. Er führt einen fast aussichtslosen Kampf – auch weil Verlage lieber heile Welt als drastische Bilder zeigen.
Der Mann ist ständig auf Achse. Steht unter Strom. Gerade kommt er aus Laos zurück, wo er das finstere Treiben chinesischer Glücksritter dokumentiert hat. Jetzt sitzt er in Bangkok, spricht mit einem Kontaktmann, der den illegalen Handel mit Elefanten untersucht. Morgen wird er in Singapur sein, danach auf den Seychellen, drei Tage darauf endlich zu Hause in Kenia. In drei Wochen dann aber schon wieder: Zürich, Hamburg, London.
Der Schweizer Karl Ammann, 61 Jahre alt, ist Naturfotograf. Er hat wunderbare Bildbände veröffentlicht: über Geparden zum Beispiel, über Gorillas und Orang-Utans. Bilder aus der Massai Mara oder Borneo. Doch schöne Fotos sind längst nicht mehr das, was Karl Ammann an- und umtreibt. Amman will nicht mehr länger nur abbilden. Er will gestalten. Will retten, was noch zu retten ist.
"Die Tiere sterben", sagt er, "und wir schauen teilnahmslos zu." Die Welt sehe düster aus, wenn sich nicht bald etwas ändere. All die Tiere, denen er einen Großteil seiner Lebens- und Arbeitszeit gewidmet hat, gebe es dann nur noch ausgestopft oder bestenfalls als domestizierte Zoo- und Zirkustiere zu sehen: die Löwen und Tiger, die Schimpansen und die Bonobos, die Waldelefanten und die Okapis.
Read the full story here.